Carphone Warehouse, O2 to continue to offer 16GB iPhone
Still demand for it
Claims that O2 and Carphone Warehouse have completely sold out of the 16GB iPhone have proved greatly exaggerated. Both today said they would continue to offer the handset.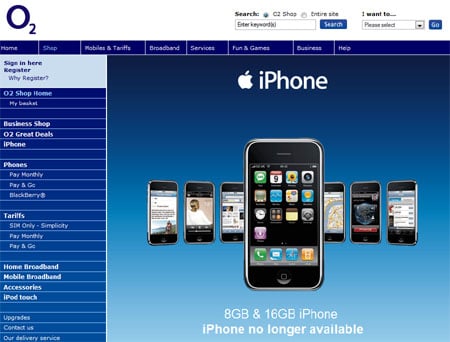 Gone this morning but back soon
O2 told Register Hardware that it's currently in the process of replenishing stocks of the 16GB iPhone to be sold online. Its high street stores still have the model in stock.
Carphone Warehouse told us that it's reviewing the stock situation for 16GB iPhones sold through its website, but added that its stores now have them in stock.
Both retailers said they are reviewing their stocks of the 8GB model for online and in-store sales, but we got the feeling neither will be rushing to restock shelves with the lowest capacity iPhone anytime soon.
However, both the 8GB and 16GB iPhone models are, of course, available through Apple's website and shops.
Numerous sources have speculated that O2 and Carphone Warehouse were deliberately running down their stocks of both models in order to clear shelf space for the 3G iPhone, which it's rumoured Steve Jobs will unveil at Apple's Worldwide Developers Conference on 9 June.
But that's a month away, and if there's demand for the current model, why not satisfy it? Both CW and O2 appear to be monitoring demand closely, ensuring they can supply iPhones punters want to buy.