Boris Johnson bans boozing on London transport
Sobriety to reign from 1 June
Newly-elected London mayor Boris Johnson has gone straight into attack mode and carried out his election pledge to ban boozing from London's public transport system, the BBC reports.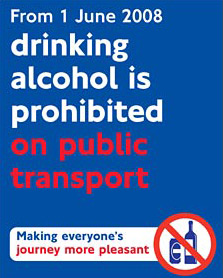 The blonde Tory bombshell declared: "I firmly believe that if we drive out so-called minor crime then we will be able to get a firm grip on more serious crime. That's why from 1 June the drinking of alcohol will be banned from the Tube, tram, bus, and Docklands Light Railway."
Those travelling on overground services will have to suffer pie-eyed fellow commuters for somewhat longer, however, since "Transport for London has to apply to the Department for Transport for permission to enforce the bar on the consumption of alcohol" on those routes.
Johnson has found favour with liver-hugging campaigning group Alcohol Concern. Chief executive Don Shenker endorsed: "Public drinking and the behaviour sometimes associated with it can, and does, deeply affect people's ability to enjoy public spaces. Taking a firm approach to public drinking in this way sends a strong message that public drunkenness is socially unacceptable."
The Rail Maritime and Transport Union, though, has expressed doubts over the cunning plan to restore order in the capital. Its leader Bob Crow said: "We are in favour of any measure that will make our members' lives safer and curb anti-social behaviour, but it appears that this really hasn't been thought through very well and could well make matters worse. We are being told that it will be our members who will have to approach people drinking and ask them to stop - but the mayor hasn't asked us what we think.
Crow brilliantly concluded: "Perhaps the mayor will come out with his underpants on over his trousers like Superman one Saturday to show us how it should be done, and maybe tell a crowd of Liverpool supporters that they can't drink on the train."
We at El Reg have spotted another, non-Scouse-based flaw in the Johnson scheme to wrest control of the transport infrastructure from legless ne'er-do-wells: the London commuting experience is now so near absolutely intolerable that only Chuck Norris would consider chancing a rush-hour trip on the Northern Line without some form of mind-numbing beverage on hand.
Our advice to Johnson? Try tackling the "serious crime" of charging long-suffering passengers three quid to travel 200 yards packed like veal calves en route to a French slaughterhouse. Prosecution rests. ®