T-Mobile takes a shine to HTC's Diamond
MDA Compact IV launched
HTC may have only officially announced its new Diamond handset yesterday, but T-Mobile hasn't wasted any time in rebranding the phone and preparing it for UK sale.
The network operator has renamed the would-be iPhone killer the MDA Compact IV. Despite HTC telling Register Hardware yesterday that the 7.2Mb/s HSDPA 3G handset would be available next month, T-Mobile won't be letting Windows Mobile fans get their hands on its version of the device until July.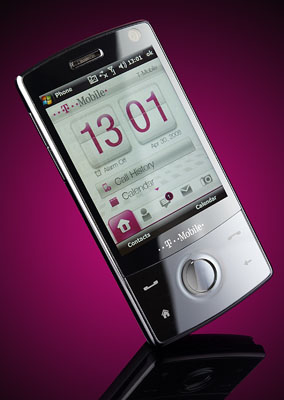 T-Mobile's MDA Compact IV: Diamond geezer
T-Mobile will sell the phone online and through stores, with customers able to pick-up the handset for free on selected tariffs.
In addition to 3G, Diamond also supports tri-band GSM/GPRS/Edge connections. Its 4GB of built-in storage will soak up images snapped on the phone's 3.2-megapixel camera. It has Wi-Fi and GPS on board too.
Other UK network operators haven't announced pricing and rebranding plans for the HTC Diamond yet, but HTC said yesterday they have all signed up to offer the handset.