FCC reveals biometric HTC handset
Documents uncover testing phase
An upcoming HTC handset equipped with a fingerprint reader has made its first public appearance thanks to the US Federal Communications Commission (FCC) website.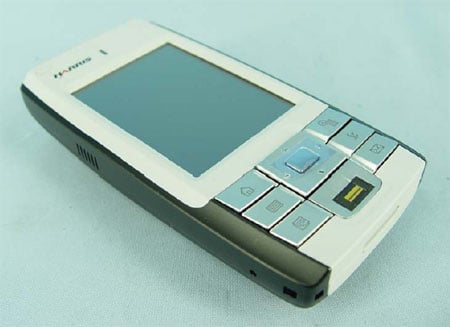 HTC's 'Census': industrial
The handset is shown in a black and white body and emblazoned with the logo of wireless technology firm Harris. Pictures also suggest the phone has a touch-sensitive display. There's no keyboard to be seen in either the internal or external photos of the device.
Although the documents reveal very little about the phone, photos of the handset's innards show that it uses a Qualcomm's MSM6500 chipset, which was released in 2002. Photos also show that the phone uses Micro SD memory cards.
A front view of the chunky phone also shows a fingerprint reader, which looks very similar to the one built into HTC's Shift UMPC. There doesn't appear to be a camera built into the phone's body, suggesting HTC may punt the Census as a basic talker.
Given the Harris logo and the fingerprint reader, Census is almost certainly aimed at industrial usage.
No release date for the Census has been given yet, so we'll bring you more news as we get it.
Sponsored: How to Process, Wrangle, Analyze and Visualize your Data with Three Complementary Tools