Oz cops sound iPod road cross death warning
'I'm on a highway to hell...'
We didn't realise it, but an MP3 player can kill you. According to Australian police, that is, who have launched a series of hard-hitting posters designed to stop people crossing roads while changing tracks.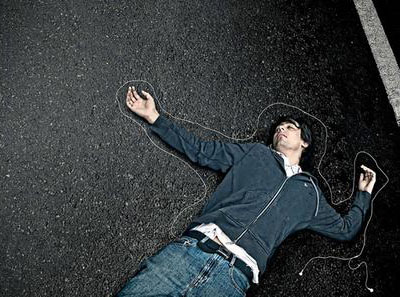 New South Wales MP3 death poster
Created on behalf of New South Wales (NSW) traffic cops, the ads show lifeless bodies lying in roads. Each iCorpse is outlined with a white headphone cable, instead of the traditional white chalk mark.
Does this mean only iPod users are at risk, we wonder?
John Hartley, NSW Chief Traffic Services Commander, said that an increase in the use of portable media players and mobile phones demands a greater awareness from pedestrians and drivers.
Hartley didn't detail any MP3-related road-death stats, but his general opinion seems to be that it's not wise to cross the road while listening to AC/DC and air guitaring away in imitation of Angus Young.
The adverts are set to appear across NSW over the next few weeks.