Dell revamps liquid-cooled gaming rig
XPS 730 H2C debuts
Dell has rolled out its latest XPS gaming desktop - much to the chagrin of its Alienware subsidiary, we expect, which we're sure would prefer it's parent would leave the gaming stuff to the specialist.
Whatever, the XPS 730 H2C is a "premier gaming desktop" and "one of the most advanced gaming platforms on the planet", Dell spin merchants claimed.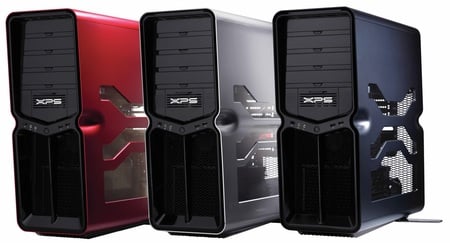 Dell's XPS 730 H2C: quad everything
What makes it so is a motherboard based on Nvidia's nForce 790i Ultra SLI chipset - reviewed here - a factory-overclockable Intel Core 2 Extreme quad-core processor, Corsair Dominator DDR 3 memory, and a choice of Nvidia GeForce 8800 GT graphics cards in SLI mode, or a pair of AMD ATI Radeon HD 3870 X2 cards, each of which has two GPUs on board. It's driven by a 1kW power supply.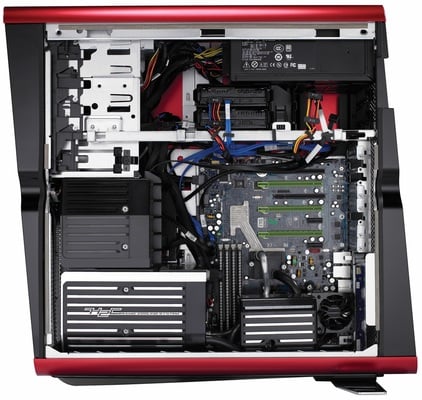 Redesigned liquid cooling rig
Building on the quad theme, the 730 can take four hard drives.
There's a regular, cheaper XPS 730 available for $3999/£2499 - that's the starting price. What differentiates the starts-at-$4999/£2799 H2C version is the fancy two-stage liquid cooling system that features a "re-designed CPU coldplate to to provide more uniform cooling to all four processor cores", a chipset coldplate, a fan dedicated to the CPU voltage regulator parts, and a new pump control that slows it down when the system idles.
The 730's case is made from anodised aluminium, which is coloured red or blue - your choice, gamers - if you by the H2C model.
Related Review
Alienware Area 51 ALX CFX CrossFire X gaming PC