Kodak EasyShare M893 IS compact camera
Cheap cheerful compact
Review Kodak founder George Eastman coined the phrase 'You press the button, we do the rest', and his slogan remains spot on when it comes to digital cameras like the Kodak EasyShare M893 IS.
Like many compacts, the M893 offers lots of automatic features with some semi-manual settings thrown in for good measure. Our first impressions of the M893 were good. It's a slender model measuring just 92 x 56 x 22.7mm and weighing 109g without battery or memory card.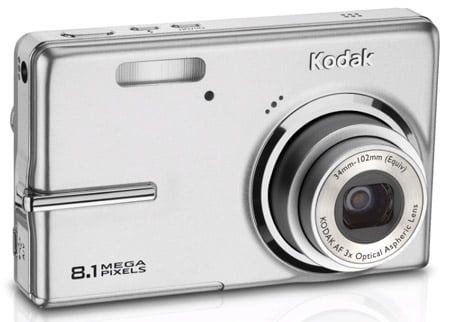 Kodak's EasyShare M893 IS: offers a reasonable array of features
It's a highly pocketable product. Our version came in a smart black finish - and with a thick instruction manual, which impressed us until we discovered that only the first 26 pages are in English and they only cover the basic functions. If you want more information you have to log onto Kodak's site to view or download a meaty PDF instruction book, which is even worse than providing an electronic file on CD.
Leaving aside this small grumble, the M893 offers a reasonable set of features. It has a 1/2.5in CCD with 8.1 million pixels; a 3x optical zoom equivalent to 34-102mm on a 35mm camera; image stabilisation; face detection; and 32MB of internal storage. It also records onto SD/SDHC cards. At the front are the lens and flash, while on top you'll find the power, shutter and flash on/off buttons.