Wristwatch packs Wi-Fi sniffer, also tells time
No wind-up
Watches may have been created to tell the time, but these days it's much more cutting-edge to use your timepiece to tell you when you're in the vicinity of a Wi-Fi hotspot.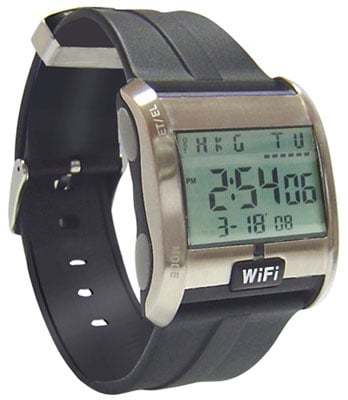 The Wi-Fi Detecting Watch: find web access whilst walking the streets
The Wi-Fi Detecting Watch doesn't let you actually surf the web, but the timepiece will at least warn you when you're in a Wi-Fi zone and save you the bother of, say, firing up your laptop only to find that there are no networks within range.
Although the watch may look like one of Casio's designs from late 1980s, the Wi-Fi watch has the added benefit of a chronograph, countdown feature, alarm and dual-time mode. It's also water resistant to 100 meters, just in case you're up for some underwater web surfing.
The Wi-Fi Detecting Watch is available online now for £20 (€25/$40), but the minimum order quantity is six watches.
It would also be ideal for anyone whose Wi-Fi Detecting T-Shirt is in the wash.