Apple punts 'Penryn' iMacs
Desktops get latest Core 2 Duo CPUs
Apple has updated its iMac line of consumer desktops, taking the machines' processor into the 45nm era with a set of 'Penryn' Core 2 Duo options. It upgraded the desktops' graphics too.
The standard three iMac configurations again include a pair of 20in, 1680 x 1050 models and a version with a 24in, 1920 x 1200 display. Moving up the line, the Core 2 Duos are clocked at 2.4GHz, 2.66GHz and 2.8GHz, respectively. All three CPUs sit on 1066MHz frontside buses and contain 6MB of L2 cache.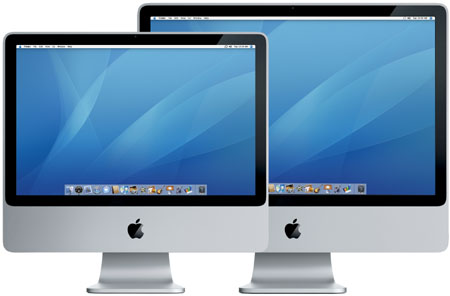 Apple's iMac: now with 'Penryn' processors
Curiously, Intel's price list doesn't currently include 1066MHz FSB Core 2 Duos that also contain 6MB of L2, so these are either 1333MHz desktop parts underclocked, or 1066MHz 'Montevina' laptop processors that Apple's got ahead of the upcoming Centrino 2 launch.
Despite the faster FSB, the iMacs still come with 800MHz DDR 2 memory; 2GB of it in all but the entry-level configuration, which has 1GB. All three desktops have dual-layer multi-format 8x DVD writers, and 250GB or 320GB of 7200rpm SATA hard drive storage.
Graphics acceleration comes courtesy of AMD's ATI Radeon HD 2400 XT chip in the low-end iMac - the other models have Radeon HD 2600 Pros installed. Graphics memory runs to 128MB of GDDR 3 on the most basic model, while the others have 256MB of GDDR 3.
All the boxes have a built-in webcam, 802.11n Wi-Fi and Bluetooth 2.0+EDR. They have mini DVI ports too, but no adaptors are bundled - though Apple has chosen to include a Remote control. The iMac have three USB 2.0 ports - plus two more on the bundled Keyboard - one FireWire 400 and one FireWire 800 port.
Available now, the three machines' prices are £799/$1199, £949/$1499 and £1149/$1799.