Were the snatched Brit sailors in 'disputed waters'?
Renewed Iran matelot-napping brouhaha dissected
The Times' "disputed zone" lies beyond the mudbanks, where the 1975 line finishes. This is the zone referred to by the MoD, where the Coalition forces have unilaterally drawn an "Op line" out to international waters based on rules laid out in the UN Convention of the Laws of the Sea (UNCLOS). The Coalition sets a further "buffer zone" on the Iraqi side of the UNCLOS line, into which Coalition forces never go.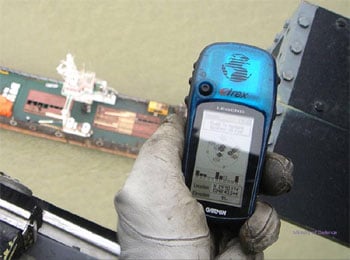 The anchored merchant ship photographed after the
incident from HMS Cornwall's helicopter.
Iran has never formally bound itself to UNCLOS, but international law can be binding on countries even if they haven't agreed to it. But it doesn't really matter, unless one chooses to believe the Iranian Revolutionary Guards rather than the Royal Navy and the merchant-ship master as to where the seizure took place. The first position supplied by the Guards was seaward of the 1975 line, but just on the Iraqi side of where UNCLOS would put the TTW demarcation after that.
(It is still not believable, as the British boarding party would have been violating the Coalition's own buffer zone to be there. The possibility of a mistake by the Brits is negligible: both their boats were not merely equipped with GPS, but were data logging their position back to HMS Cornwall, where superior officers were monitoring the situation.)
In any case, as soon as UK diplomats pointed out that the given Iranian position would still put the Guards in the wrong under UNCLOS, they changed their minds and chose a new position, this time on their own side of the UNCLOS line - pretty much destroying their own credibility, weak to begin with.
So, in fact, the British party were grabbed in unambiguously Iraqi "waters" (strictly speaking, in legal terms, they were actually seized on land). The Times headline is wrong, and so were all the others that followed from it. Paraphrasing the Graun, perhaps we all should have been a bit more sceptical.
Was it stupid to have small teams with personal weapons only, in unarmed boats, without air support - without useful backup of any kind - under two miles from Iranian territory? Yes, it was. Was it particularly stupid to keep doing this just after a number of Revolutionary Guard operatives in Iraq had been seized by American forces? Yes it was.
Should heads roll? Absolutely. Will they? No.