Were the snatched Brit sailors in 'disputed waters'?
Renewed Iran matelot-napping brouhaha dissected
The thing is that the river mouth of the Shatt al Arab is actually miles further out to sea from the high water mark, as we can see by roughly overlaying a nautical chart on the MoD's useless map: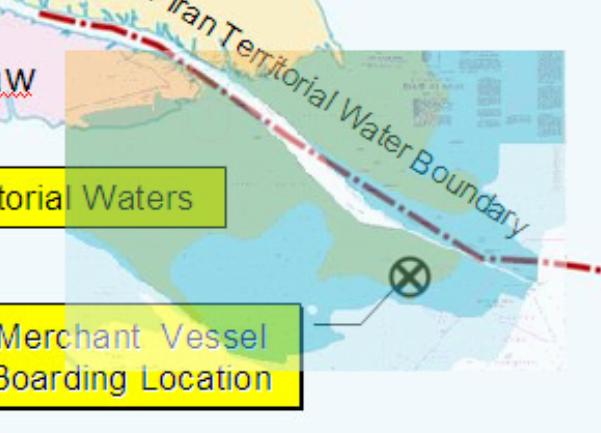 MoD map with nautical chart overlaid.
The green areas are those which the UK Hydrographic office believes to be exposed at low tide - and it's the low-water line, not the dry-land one, which counts for doing borders up to river mouths. The negotiators back in 1975 knew this, and did in fact specify the initial portion of the line shown by the MoD. The Algiers accord takes the line to a point almost two miles northeast of the position where the MoD says the merchant ship was boarded and the Iranians seized the British personnel last year.
One does note that if the chart is correct, the merchant skipper had anchored his ship in a location where he'd be high and dry every time the tide went out. This is probably why the MoD never chose to put in the charted low water lines, not wishing to look like liars. But in fact the chart data is based only on 2002 satellite pics, not a proper survey; and even if it were better, silty estuaries like this one shift and change all the time. Unless the MoD's helicopter pic of the anchored ship is faked, there's enough water for a ship to float there now.
But the fact is that the ship was plainly on the right side of the 1975 line, which was agreed upon by Iran. To be sure, there has since been a change of regime in Iran and a long war between the two nations; but in the absence of any new negotiations, the old border looks pretty strong under international law. It was recognised after the Iran-Iraq war by Saddam, and for their part the Iranians never made claims beyond it - they just wanted Saddam to stay on his own side.