Console superhero WiiMan flies in
A gaming god?
Look in the sky! Is it a bird? Is it a plane? No, it's the world's first superhero that's able to control a Wii with his body.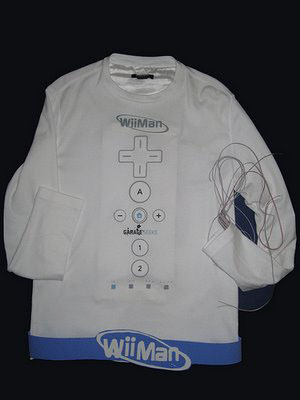 Wiiman: buttons on his shirt control on-screen action
OK, so WiiMan may not be a real superhero, but he can control a Wii through his costume thanks to built-in buttons, an accelerometer and the control widgets featured in the console's Remote. The superhero nerd was born after a man applied to Israeli-based bizarre tech builders GarageGeeks to help him create a superhero costume that also controlled the Wii.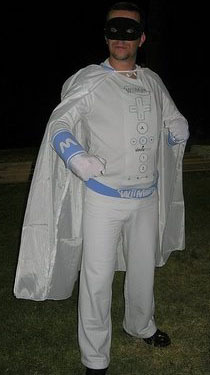 His real identity remains a mystery
WiiMan's first appearance was at KinnerNet '08, an annual meeting of "250 net, technology addicts, nerds and geeks". The superhero 'flew' onto the stage to help a gamer in distress.
Although only a limited explanation of how the shirt works is provided - well, every Superhero has to have a secret - pictures show how buttons on the shirt's front are wired to a Wii Remote.
It's not clear if WiiMan simply hides the Remote in his sleeve and presses the buttons on his shirt to operate the Remote. This would only be a half-hearted attempt though, because a true Wii superhero should have to lie flat on the ground and then stand up again to operate his accelerometer.
Nonetheless, WiiMan is a great design, but female gamers shouldn't get their hopes up that he'll be winging his way to help other Wii owners in distress anytime soon.
Sponsored: Minds Mastering Machines - Call for papers now open