Leaked picture points to upcoming HTC phones
Future models?
It's aid that a picture says a thousand words. We wish that was literally the case now an image has surfaced of several handsets claimed to be in development in phone maker HTC's labs.
Most of the handsets in the pic aren't new. Along the top row, from right to left, you'll see the Touch, Touch Cruise and TyTN II. The phone second from the left on the bottom row looks like the P3470, which HTC unveiled at Mobile World Congress in February.
But the two handsets on the bottom right are a mystery, as is the slider phone shown in the bottom left. The two bottom-right devices look extremely similar and have near-identical blue pads, although the layout of the keys appears slightly different on each.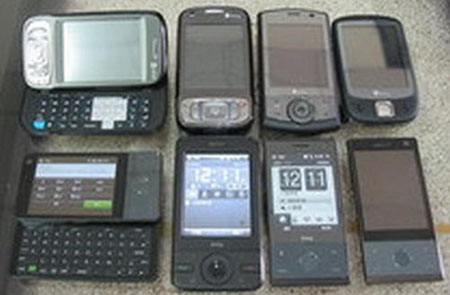 Are the two bottom right handsets and the bottom left slider upcoming HTC phones?
The slider handset also looks very similar to the other two phones, aside from the fact that there's a full Qwerty keyboard hidden underneath the screen. The slider phone's outer keypad still looks very similar to the keypad used on the two other devices, which could mean all three phones are in fact the same unit - just each with trial faceplates.
All three phones have similar size displays too, while the phone in the bottom right may also have a user-facing camera for video calls.
Hopefully HTC will shed more light on the handsets at the launch it's hosting next month, so watch this space.