Sony shaves OLED panel to 0.3mm
Non-fattening TV
Sony has put the display panel used in its 3mm-thick 11in OLED TV on a crash diet and produced a version that's less than a third of the thickness - not much beefier than a sheet of A4 paper, in fact.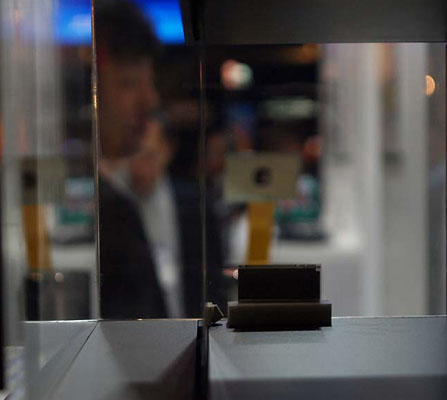 Sony's OLED panel: just 0.3mm thick
Image courtesy Impress
The new panel is just 0.3mm thick - rather less than the 1.4mm-thick panel used in the XEL-1 OLED TV, introduced in Japan in October 2007.
The super-thin panel was uncovered at a display trade show taking place in Tokyo this week. Sony's yet to officially announce the screen's arrival.
A report by Japanese-language site Impress claims the 0.3mm-thick panel has similar characteristics to the XEL-1, matching the older model's 960 x 540 resolution.
Hopefully, the thinner model will also feature the XEL-1's staggering 1,000,000:1 contrast ratio too.
The electronics giant also showed off a 0.2mm-thick, 320 × 220 OLED display at the show, but at 3.5in you'll have to squint a little if you want to watch Eastenders on it.