Rock music has several different forms, such as punk rock, hard rock or god rock. But now mobile rock has been added to that list, now that one developer has ported Guitar Hero III to a range of phones.
The mobile version of the hugely popular virtual guitar game, which turns talentless rockstar hopefuls into instant Alice Coopers, is fairly similar to the original version – except rockers use three keys on their mobile phones to control the music instead of a plastic axe.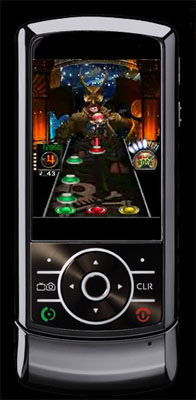 Guitar Hero Mobile: rock out on the road, in bed, in the car...
Guitar Hero Mobile is available as either a one-time download, which gives you access to a jamming list that includes School's Out and Suck My Kiss, or as subscription version that allows you to download three further tracks each month.
Several venues have been created for tapping your fingers in, and an encore option ensures you always leave the crowd wanting "more, more, more". If your virtual fretwork is of a suitably Slash/Eddie van Halen/Michael Schenker-style then you'll also unlock additional guitar models.
Details of how to download Guitar Hero Mobile and the compatible handsets are available online here. Rock on!
Sponsored: Webcast: Simplify data protection on AWS