Toshiba reveals R500 sub-notebook with 128GB SSD
Keeps mum on the price, though...
Toshiba has extended its Portégé R500 sub-notebook family with a pair of new models that both pack in 128GB of solid-state storage.
The R500-12P and R500-12Q are both based on Intel's 1.33GHz ultra-low voltage Core 2 Duo U7700 processor, 2GB of 667MHz DDR 2 memory and said 128GB SSD. Both squeeze a multi-format DVD writer into their 283 x 215.8 x 19.5-25.5mm cases.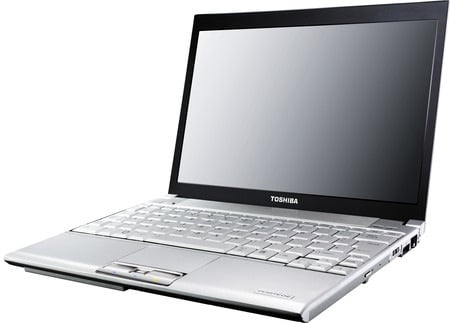 Toshiba's Portégé R500: now with 128GB of solid-state storage
Like other R500's, the two new models incorporate 12.1in, 1280 x 800, LED-backlit screens driven by Intel GMA 950 integrated graphics cores; 802.11n Wi-Fi; three USB 2.0 ports; one Firewire port; Gigabit Ethernet; Bluetooth; a PC Card slot and an SD memory card slot.
Both models run Windows Vista Business Edition. So do two other new R500s, the R500-11Z and the R500-121, but these also come with Windows XP Pro, albeit "as recovery media on DVD-ROM", as Toshiba puts it.
The 11Z and 121 both use 160GB hard drives for storage. Their other specs match those of the SSD models.
Their prices won't be comparable, of course, though we can't say for sure because Toshiba has yet to say what it's going to charge for the new models. The current R500-10U has a 64GB SSD and a 1.2GHz Core 2 Duo U7600 processor and retails for around £1750.
Related Reviews
Toshiba Portégé R500
Apple MacBook Air
Lenovo ThinkPad T61
Sony VGN-TZ


Sponsored: Detecting cyber attacks as a small to medium business