Asus spills Nvidia's nForce 780a beans
Unannounced AMD-oriented chipset slips out
A little bird tells us Nvidia is going to tell the world about its AMD-oriented nForce 780a chipset at the end of this month, but if you can't wait, Asus has posted details of its 780a-based mobo on its website.
The M3N-HT Deluxe Mempipe - so called because the cooling system runs heatpipes over the board's Ram - is based on the as-yet-unannounced nForce 780a SLI chipset, which connects to a Socket AM2+ processor and links it to a trio of x16 PCI Express (PCIe) 2.0 slots capable of supporting three Nvidia graphics cards in Tri-SLI mode.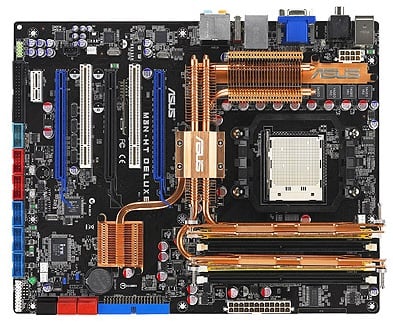 Asus' M3N-HT Deluxe: based on Nvidia's nForce 780a
Asus website shows that the part also contains a GeForce 8 series integrated GPU, so the board can do Hybrid SLI too, which means allowing integrated and discrete graphics cores to render images co-operatively, or use the IGP for low-power work and reserve the add-in card for games.
The 780's southbridge has RAID-able support for six 3Gb/s SATA devices, but Asus is also including a Marvell 6111 SATA controller on the board too to look after the eSATA port on the back, we'd say.
The M3N-HT has Gigabit Ethernet; the ability to drive ten USB 2.0 ports and a pair of Firewire connectors; analogue and S/P Dif digital audio; and HDMI and VGA ports.
Nvidia shouldn't be too hard on Asus, however. The 780a's been expected to appear at any moment since early this year, most recently at the end of March and then early this month.
Related Review
Nvidia nForce 790i Ultra SLI chipset