Can the Atom help Intel's CEO meet otherworldly demands?
Otellini bullish on MIDs, bearish on Affymetrics
Atom and Peeve
During a recent investors conference held at Intel's headquarters, Otellini talked up Intel's growth strategy, saying the company hoped to capitalize on new classes of systems. Some of these systems resemble the ultra-mobile PCs that haven't been terribly popular - but Intel's versions of the kit are cheaper and often lower-end products. The idea is that rich computer-savvy types will buy these systems as lightweight, near-disposable e-mail and web checkers, while the less fortunate will purchase them as their primary computers. In addition, Intel is looking to expand through beefier mobile devices likes smartphones, via more consumer electronics devices like set-top-boxes and through more embedded systems by placing lots of processors in cars and refrigerators.
The Atom processor and its future derivatives will play a crucial role in these efforts, as Intel tries to ship a powerful but low-energy part into these new markets. During the investor conference, Intel, in my mind, received quite a bit of push back from the financial types who have seen Intel try and fail to crack fresh areas in the past. The company, for example, has sold off an older, unsuccessful low-power chip business. A number of people present at the conference hit us with skeptical comments around Intel's rosy picture of the future, and one analyst, during the gig, even suggested that Intel give up on growth and stick to making the most out of its dominance in existing markets.
"I guess that I don't agree with your characterization," Otellini said.
"It's all relative, right? I talked about this for the first time a year ago at the analyst meeting. I talked about the three new big markets we are going after with the Intel Architecture. This year, I expanded it to four. I added the embedded stuff.
"A year ago, there was no silicon product. There were no end products, and there were no design wins. A year later, all three of those are different. So, my view is that a year ago the range of view from my perspective was from 'no way' to 'hmm, interesting.' And this year, it is from 'hmm, interesting' to 'there may be something here.' Maybe a year from now, it will go from 'there's something here' to 'wow.'"
The most surprising positive reaction to the new push, according to Otellini, came from the analysts' appreciation of so-called NetBooks - the lower-end laptops.
"Netbooks is a category that we invented less than a year ago and talked about publicly for the first time less than six months ago. And now it has become a category that is the hottest thing on the market today."
One need only look at all the buzz around the Asus EEE PC to find at least some evidence supporting Otellini's claims.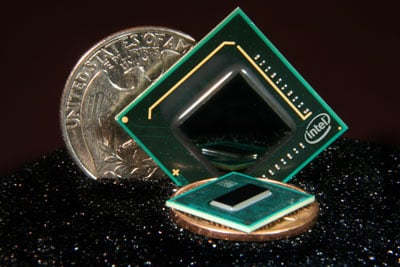 Intel's Atom chip on top of giant US currency
As Otellini sees it, the Netbook success bodes well for ventures in the PDA and smartphone markets. Sure, Intel has tried this before with the StrongARM/XScale products, but this time around "there's a better value proposition," as Intel relies on its own, familiar architecture rather than an ARM design.
"We knew where we were going awhile back, and being one of a thousand licensees to ARM doesn't seem to be the way to solve the problem of getting the internet into your pocket.
"The instruction set, to me, is a much better value proposition because we are bringing the entirety of the internet to these devices and adding voice. The alternative is that you have voice and then try to bring the internet to those machines, and the internet is not programmed around ARM. The internet is all javascript. It is all Adobe Air. It is all Flash. That's our heartland."
It must be noted that ARM advocates reject Intel's claims of a performance and ease-of-development edge. They argue that Intel is charging after a go-it-alone strategy in a mobile market that thrives on partnerships and the ability to tweak processor designs to meet specific needs. And, if you're looking for a standard, the argument goes, ARM is already that standard. Intel is simply adding confusion and more software effort to mobile application development.
With any luck, consumers will end up as the beneficiaries of this architecture war as more complete, functional mobile devices come to market, replacing the over-hyped, under-powered gear today.