Sony picture frame-style HD TVs a work of art?
Pretty as a picture?
Should the TV be the centrepiece of a living room or blend in among the artwork and scatter cushions? Sony suggests the latter - its latest HD Bravia line-up has been designed to look like picture frames.
All three 26in, 32in and 40in 1080p resolution E4000s are wall-mountable and available in several case colours, including Midnight Sky and Aluminium. These, Sony claimed, make the TVs "blend effortlessly with contemporary or traditional interiors".
The E4000s include Picture Frame Mode, which enables users to display images from a USB Flash drive, letting you turn the TV into an oversized digital picture frame. Sony launched the feature last week with its Bravia W4000 range.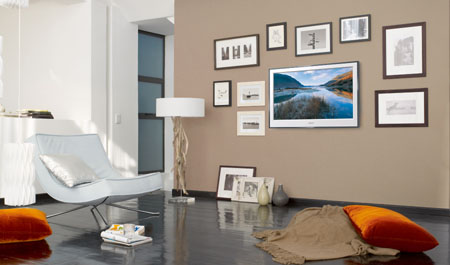 Sony's Bravia E4000: can you spot it?
Several images come pre-installed too, including Van Gogh masterpieces, so you can pretend that a multi-million pound painting hangs on your dingy flat's walls.
Picture Frame Mode is also claimed to use around 35 per cent less energy than TV viewing mode, so you'll be helping the planet and cutting your bills whenever you sit and stare at those sunflowers.
Each set is controlled through Sony's PS3-derived XMB user interface, and all three models can be hooked-up to games consoles and Blu-ray Disc players through a trio of HDMI ports.
The 40in daddy is the only E4000 to feature "an extended, more lifelike colour palette" to further boost the quality of on-screen video. The largest set also has a PhotoTV HD mode to boost the quality of still images yet further.
Sony hasn't announced a release date or price list for the Bravia E4000 series.