Loudspeaker T-shirt joke turns true
April Fool no more
Following the success of the Wi-Fi Detector T-shirt, one online retailer recently tempted next-generation clothing fans with a speaker-equipped shirt, only for it to turn out to be an April Fool gag. But the same retailer now claims it's putting the T-shirt-cum-ghetto blaster into production following "overwhelming" demand.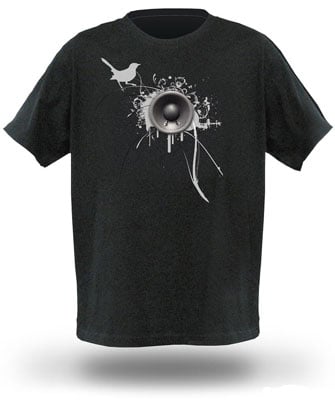 ThinkGeek's speaker T-shirt: going into production
On 1 April, ThinkGeek.com began 'selling' the Personal Soundtrack T-shirt. The supplier joked that the garment's speaker could be operated through a remote control, enabling you to play a range of pre-installed sounds appropriate to your situation.
Sound effects and musical themes ranged from a crying baby and a police siren to a victory theme and western face-off music.
ThinkGeek's test subjects claimed their lives had improved 143 per cent since donning the T-shirt, while some wearers' friends claimed how much cooler the apparel had made them.
And then it admitted it was all a joke.
But not any more. The retailer has now claimed to have had an "overwhelming positive response" to the garment, and "hundreds of emails" have forced it to put the T-shirt into production for real. However, ThinkGeek admitted that it could take some time for the first working T-shirt to run off the "robotic factory monkey" production line.
Sponsored: Minds Mastering Machines - Call for papers now open