Korea's first astronaut heads for ISS
Historic 10-day gig
South Korea's first astronaut is en route to the ISS following the successful launch of a Russian Soyuz TMA-12 vehicle from Kazakhstan's Baikonur centre at 17:16 local (11:16 GMT) this morning.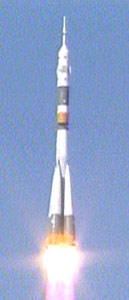 Biotechnology engineer Yi So-Yeon, 29 - who's accompanied on "Expedition 17" by Oleg Kononenko, 43, and Sergei Volkov, 34 - will spend about 10 days in space conducting scientific experiments and should return to Earth on 19 April with the station's outgoing crew.
In anticipation of the TMA-12's arrival, the ISS crew yesterday undocked the Progress 28 cargo ship which had been attached to the station since February. Its final flight, carrying "trash and discards", will end in burn-up over the Pacific.
The undocking freed up the Pirs docking compartment which will receive the three Expedition 17 astronauts.
Yi expressed her hopes on Monday that the historic mission might be a step towards reconciling North and South Korea. She told a press conference: "I hope someday they will be one, and I hope the North Korean people will be happy with my flight."
Yi replaced the Korea Aerospace Research Institute's former first pick Ko San, 31, after the latter was grounded for "violating security protocol" at a Russian training centre. ®