Japanese carrier to test smell-o-vision phone kit
The handset that gets up your nose
Would you like to come home to the rich smell of a beef dinner roasting? Or be woken up with the whiff of freshly cut grass? Both could soon be possible, provided the upcoming trial of a odour-outputting mobile phone rig doesn't get up Japanese consumers' noses.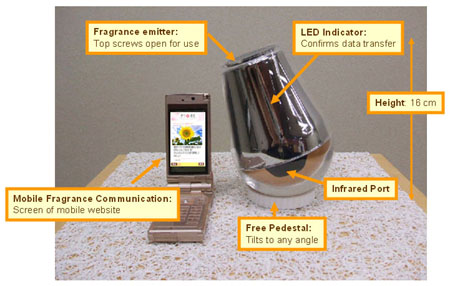 NTT's Mobile Fragrance Communication kit: fragrances from your phone
The ten-day trial starts there on Thursday and is being run by network operator NTT DoCoMo. It's picked a sample group of men and women to use the "Mobile Fragrance Communication" kit, containing a mobile phone and a fragrance delivery device which mimics an air freshener.
Users download pong playlists onto the mobile, which communicates with the MFC by infrared. The smell system comes with a set of essence cartridges pre-loaded.
Music and animated content can also be included in the playlist, allowing users to enjoy songs and cartoons to the accompaniment of an appropriate niff.
DoCoMo is also testing a service gateway used to control the MFC kit remotely. This allows users to, say, pre-set the system from their office to deliver whiffs of calming lavender when they arrive home.
If you're not satisfied with the available smell list, then users may eventually be able to produce their own scents. If you're an expectant couple then how about Nappy Aroma? Or, if your kids have recently left home, then how about the scent of a mouldy bedroom combined with piles of dirty laundry?
Sponsored: Minds Mastering Machines - Call for papers now open