Microsoft is secretly designing a Wii Remote-style motion controller for the Xbox 360, it has been claimed. If it's real, the add-on could appear in stores in time for Christmas.
An unnamed developer source has apparently told MTV News that Microsoft's motion-sensitive controller is designed to replicate all of the Wii Remote's functions and more. The source claimed Rare, a Microsoft-owned games development studio, has been tasked with developing the controller – although the source alleges that Rare has had trouble hitting development deadlines.
MTV's source sketched out the controller's design and although the drawing looks almost identical to the Wii Remote, Microsoft's version isn't attached to a secondary controller, as the Wii Remote is with the Nunchuck.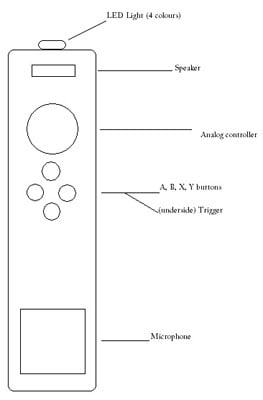 Artist's impression: the rumoured Xbox 360 'Wii Remote'
A speaker is integrated into the controller's top section and a microphone into the bottom, suggesting the Microsoft unit could be used with for karaoke and VoIP as well as gaming. The sketch also indicates that an analogue controller could be incorporated too.
But, much like the Wii Remote, Microsoft's design has four top-mounted buttons and an underside trigger.
The source added that the controller is being developed to interact with Microsoft's Xbox Live Vision Camera, a 1.3-megapixel snapper designed for video chat and capturing still images.
In a double blow to Nintendo, the source also claimed that Rare is working on Wii-style avatars for Xbox 360 gamers. The Microsoft's answer to Nintendo's Miis could be more detailed than those seen on the Wii, the better to suit the kind of gamers who favour the Xbox over the Wii.
Microsoft has already stated that it doesn't comment on rumour or speculation, so for the time being, Xbox 360 gamers will have to sit back and wait.
Sponsored: Webcast: Discover and secure all of your attack surface