Nvidia nForce 790i Ultra SLI chipset
Powerful but very pricey
Once a couple of case fans had been added to blow across the northbridge and memory, the Asus behaved itself perfectly, so on that score the 790i is better than previous Nvidia chipsets, but still has room for improvement. It's clear that Nvidia takes chipset cooling very seriously, as the reviewer's guide for 790i SLI gives a detailed description of the procedure to remove and replace the cooling system.
3DMark06 Results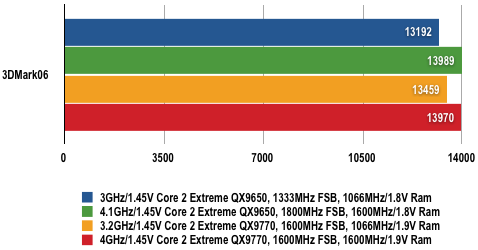 Longer bars are better
Tested with one Nvidia 8800 GT card
Asus' decision to use passive chipset cooling makes sense as a way of avoiding noisy active coolers, and it's not a problem if you run your system at stock settings. But who's going to buy a board like this and not want to use it in an overclocked system? As soon as you overclock, you run into trouble which can be eliminated with extra fans. So you may as well opt for a 790i board with active cooling in the first place.
Setting up the Asus for regular use could hardly be simpler. Plug in the processor and memory, add cooling, and let the BIOS sort everything out for you. Things get a bit more complicated when you start to overclock as you face a large number of decisions. You can set the memory speed with a multiplier based on the frontside bus (FSB) speed. The options are limited to 5:4, 3:2 and 1:1 but Nvidia also offers the option of unlinking the FSB and memory bus so you can fix the memory speed to any figure that you choose. If you want to take the memory speed beyond 1801MHz you must install two memory modules in the second and fourth slots.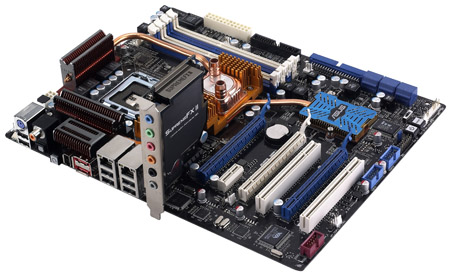 Asus' Striker II Extreme: not overclocker friendly
By that stage you'll be adjusting voltages and if you're used to setting the CPU core voltage, memory voltage and maybe the MCH/northbridge then you're in for a shock. Asus supplied a set-up sheet with details for E8400, Q9550, QX9650 and QX9770 processors. In addition to the usual voltage changes we had to set CPU LL and CPU VTT voltages as well as pumping plenty of juice into the southbridge. According to Asus, the CPU LL for the QX9650 needs to be set at 1.74V. For the QX9770, the figure is 1.70V, and there is surely no chance you'll find those figures by trial and error.
Verdict
At a basic level, if you want to combine an Intel processor with two or three Nvidia graphics cards then the nForce 790i SLI Ultra is the obvious – if expensive – choice. Those who like to tinker should be aware they will very likely drive themselves insane with the endless settings in the BIOS.

Nvidia nForce 790i Ultra SLI chipset
It's pricey and tricky to overclock, but it's the obvious choice for combining Intel CPUs and Nvidia GPUs.