Nvidia nForce 790i Ultra SLI chipset
Powerful but very pricey
In appearance, it bears a passing resemblance to the Intel X38 Maximus Formula SE - reviewed here - with an extensive passive cooling system that covers the chipset and power regulation hardware. It comes complete with a Fusion cooler on the northbridge, which makes life very easy if you want to water-cool the Asus. The reference design from Nvidia uses a large active cooler on the northbridge, and judging by our experiences with the Asus this is probably a good idea.
PCMark05 Results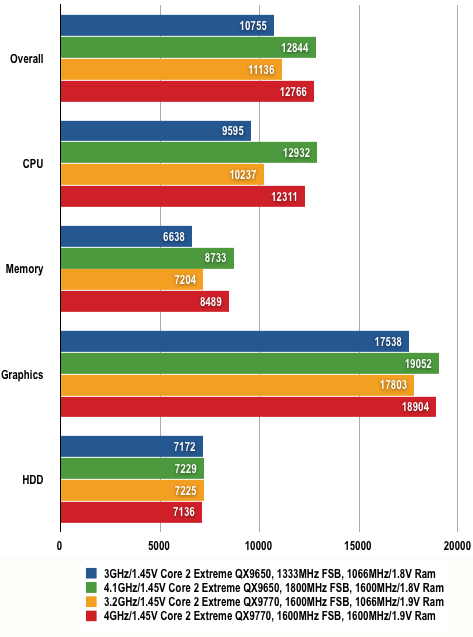 Longer bars are better
At first, our testing went smoothly, but as we cranked up the speed of the test rig's Intel Core 2 Extreme QX9650 and QX9770 processors, and that of the DDR 3 memory, the scores in our benchmark tests became erratic. After a time, the QX9650 system would freeze and require a restart, something we weren't anticipating as the chip we have here has always been well up for overclocking in past tests.
By contrast, the QX9770 was far less problematic, even though it's the CPU we'd have expected to fail had we been told one of our two CPUs wouldn't overclock. All this suggests to us, the source of the problem is Nvidia's support for different Intel CPUs, suggesting it needs to do some more work here, possibly in conjunction with Asus' driver writers.