Intel forces server chums to fend for themselves
Have you heard about Tukwila?
IDF Server aficionados were left wanting at this year's China-flavored Intel Developer Forum. The company kept banging on and on and on about something called a MID, which is neither a PDA nor an ultra mobile PC. The important difference between a MID and something else, according to Intel, is new usage models.
Whatever. They're not 128-way SMPs, so we don't care – except over on HardReg where we do.
Intel's server chip chief Pat Gelsinger did make an appearance here where he re-summarized several months of announcements. In addition, Gelsinger clocked customers and partners with a monkey stick and showed off Tukwila – the upcoming addition to Intel's Drunken Uncle processor line – for the first time. It ran Solaris on top of Red Hat.
With Intel spending all of its time playing with toys, it was up to the partners to do the dirty work.
The FPGA co-processor lads from XtremeData were here. You can see their tri-chip blasting through a batch of Black Scholes.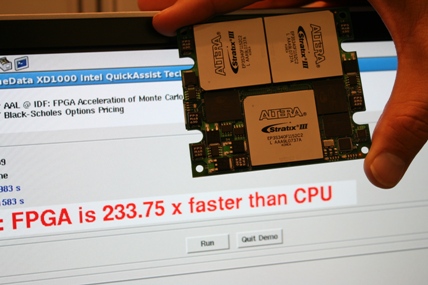 Take that Black Scholes
Gear from former AMD CTO Fred Weber's shop MetaRAM was all over the place as well. Everywhere we turned, someone wanted to shove a double-stuffed Hynix DIMM at us.
This board shows off MetaRam's DDR3 play with Intel's upcoming "Thurley" platform that will use the Nehalem chips.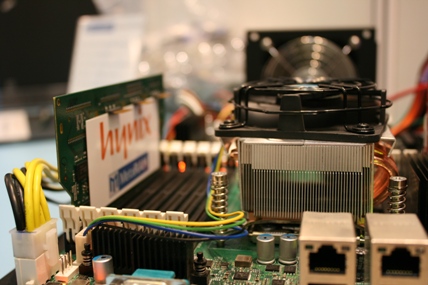 Double-stuffed Thurley
And again.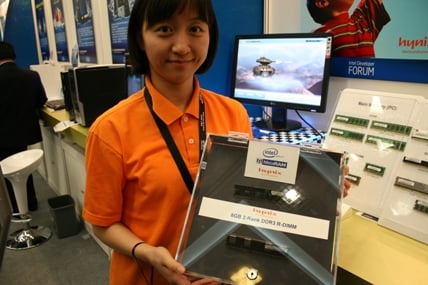 The touch, the feel of MetaRAM
We'd tell you all about the fantastic other server gear, but sadly, everything else was pretty bog standard. So, we'll leave you with heatsink porn courtesy of Dynatron.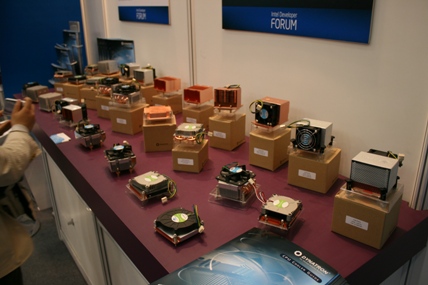 Heatsink Glory
And the glamor shot.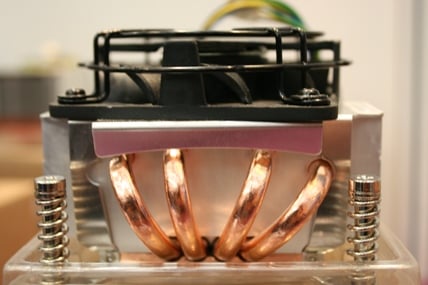 Isn't she lovely
All hail the monkey stick. ®
Sponsored: Becoming a Pragmatic Security Leader