3rd Space FPS gaming vest
Could've been a great gaming accessory, but came up short
During gameplay the air compressor creates a constant background noise, a little louder than an Xbox 360 Elite, for example. After a quick succession of hits, typically three volleys of four rapid fire hits, the compressor needs to build up a reservoir of compressed air again filling the jacket, and when it does it makes a hell of a noise - which, if you're not expecting it, can be quite distracting.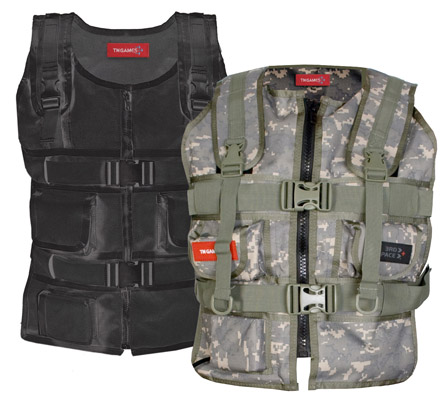 Also available in special forces black
The air pockets are located primarily around the front of the vest, with two positioned at the back. So when you get fragged by a grenade for instance, it feels like someone has just poked you in the kidneys. The effect of this is a little startling, but still not quite the same sensation as being hit by shrapnel. We imagine.
It's available in both camouflage and black (for those nighttime special ops) and S/M and L/XL. We had the L/XL version, and on a six foot frame it didn't leave a great deal to the imagination despite it's fully adjustable straps.
Verdict
The gaming vest is such a nice idea - it's just poorly thought out. The games that this ships with are really quite dated, it's expensive, and it only runs on a PC. This would have made a great prototype if the promise of a quieter, more compatible version was on its way.

3rd Space FPS gaming vest
Hang on for the Mk II or III at least