El Reg reconstructs Heathrow T5 chaos
Fearful scenes of UK's latest titsup
For those of you who are having difficulty fully comprehending the fearful chaos inside Heathrow's new Terminal 5, inaugurated this week amid the kind of anarchy which only BAA can really pull off, we're delighted to offer this afternoon our representation of the scenes inside the building as enraged passengers storm the security gates in the vain hope that armed action might reunite them with their luggage: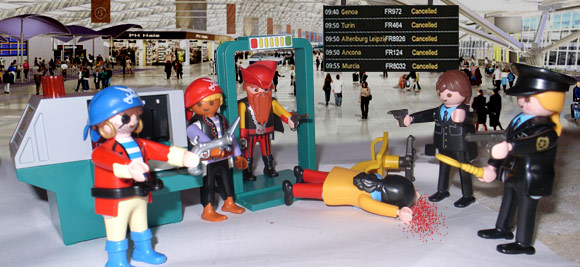 We should explain that the security operatives seen here have just accidently shot dead the only person capable of fixing the baggage handling computer system, since he tried to get past them with an illicit 250ml of black coffee without decanting it into the regulation terror-busting plastic bags.
Anyone who's wondering why the other participants in this drama are dressed as pirates should be aware that while our Playmobil Security Check Point fortuitously turned up this morning, the box of 500 angry customers we also ordered has been delayed in transit, since it was apparently routed from Germany via a well-known UK airport.
Accordingly, we have improvised with our extensive collection of Playmobil buccaneers. ®
Sponsored: What next after Netezza?