Levi's rivets up limited edition handset
Only 100 available
Given the numerous styles of Levi's jeans currently available, Register Hardware half expected the denim designer's latest phone to either be 'skinny' or 'engineered' with that funny twist. Instead, Levi's has updated its existing handset with a limited edition look.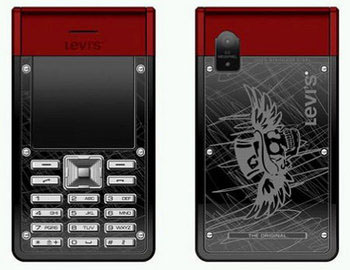 Levi's ultra-limited edition handset: new design, same features
Only 100 of the Levi's ultra-limited edition Red Tab mobile phones will be released. The new model retains the same basic size and shape as its predecessor, but has been decked out with a large red section across the top – presumably designed to look like the company's famous red tab.
Levi's designers have also taken a screwdriver tip to the handset's back cover and scratched it all over – with some of the marks vaguely resembling a skull with wings.
Nothing's changed under the phone's hood, though. Users still get a two-megapixel camera to snap denim-donned mates with. An MP3 player is built into the handset, as is Bluetooth with A2DP to allow you to stream music from the handset to a compatible audio device.
Being a limited edition handset, you'll also get a "premium" presentation box and phone case, presumably so you don't scratch the handset's etched exterior.
The jeans maker also throws in a metal chain to attach the phone to your pants, meaning thieves can't nick the handset whilst you're out on the town. You can also opt to have your name etched onto the phone – which Levi's presumably does with the same screwdriver it used to design the phone.
Given the rate at which crotch seams have been descending groundward of late, the phone'll undoubtedly come in handy when you need to call a cab because you can't waddle to your destination quickly enough.
Levi's ultra-limited edition Red Tab mobile phone is available to order online for around €550 (£440/$880).