Four 1TB hard drives on test
A quartet of desktop drives compared
Next up we have the Samsung SpinPoint F1 with the model code HD103UJ. This drive was sent to us by Quiet PC because it has such a low noise rating. As we mentioned, its design uses three platters which means it sets a new standard of areal density.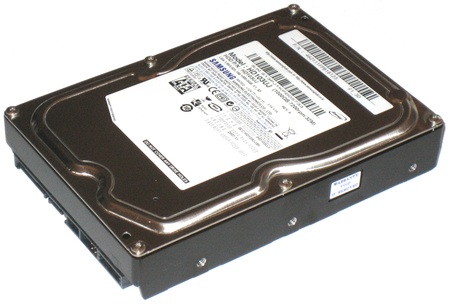 Samsung SpinPoint F1: Phew, what a performer...
Samsung's website doesn't offer any software for its hard drives, and the PDF installation guide is incredibly short and uninformative, so we're somewhat in the dark about the HD103UJ. It has Native Command Queuing, staggered spin-up, perpendicular technology, FoD (Flying on Demand) and RVC (Rotational Vibration Controller). These last two features maintain control of the read/write heads as operating conditions alter, but we're none the wiser how they do their jobs.
What we do know is that the Samsung is an impressive performer.
It delivered the fastest performance in PCMark05 and had the fastest file transfer times when the three other drives were used as data drives. File transfers within the Samsung eclipsed the other drives. Those real world tests show the Samsung at its best, but we have to sound a note of caution. In HD Tach 3, the Samsung has superb average read and write speeds and burst speed is also high. However, we saw some strange results with HD Tach in this round-up. The Western Digital also performed well in the burst speed test yet it is unquestionably a slow drive.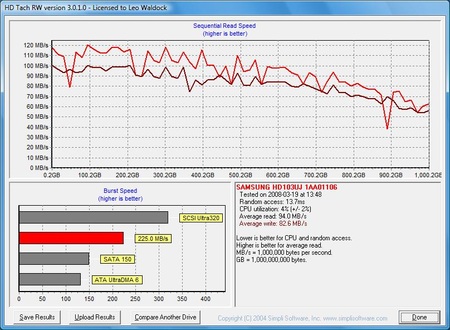 Click for full-size image
The CPU usage figure for the Samsung in HD Tach was higher than the other drives, but we're only talking about four per cent, rather than the two or three per cent that we might have hoped for. However, the margin of error is plus or minus two per cent.