Kids brought up by technology not parents, quango claims
Robaux pairs, anyone?
Most children are raised by their parents. Some have even been brought up by animals, she-wolves in particular. However, a report has found that increasingly large numbers of today's kids are being raised by the web.
Research and debate quango the Institute for Public Policy Research (IPPR), today claimed that any young person, aged between 13 and 18, who spends more than 20 hours per week online is effectively being "raised online".
Children are "constantly connected", according to the report, and stay awake into the early hours surfing websites like Facebook. Some young people who spoke to the IPPR also admitted to leaving their mobile phones on overnight, just in case they got a text message.
However, the IPPR's report found that, unsurprisingly, very few parents have any idea about what their children are doing online. The report blamed this on guardians' "lack of knowledge and understanding" of technology and the internet.
Children seem to have a good tech understanding, though, especially where the internet's concerned. Of all the children questioned by IPPR researchers, only one said that she wanted to spend less time online because the surfing she does is "just really pointless – like MySpace".
Another child knew that his school restricted internet use, but claimed he could "get an administrator's account and take them off".
The IPPR's full report is due out in April. But the institute has already said the document will recommend that the Government and internet service providers do more to protect children from inappropriate online content.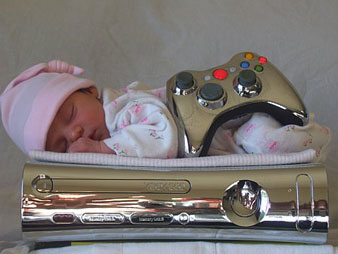 The Xbox Baby, also known as Victoria
For example, the IPPR believes the Department for Children, Schools and Families – a government ministry created to manage child development - should be given overall control for media literacy. It is hoped this would help parents ensure children get more of the good stuff from the internet.
If the IPPR's report doesn't convince you that the internet is raising our future workforce, then the story of one American couple will. The pair 'met' on Xbox Live and later started a physical relationship.
They've since had their first child, which has been dubbed... The Xbox Baby.