Yes! It's the handgun camcorder!
Point-and-shoot photography given new meaning
The term 'point and shoot' has been used by photographers for years. However, snappers' images were never fatal - until the invention of a compact camera-cum-handgun, that is.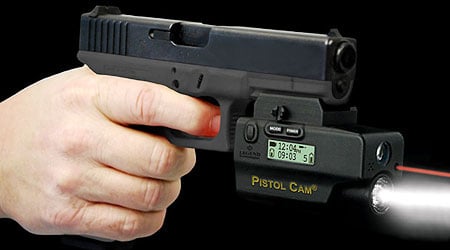 PistolCam: photography at its most deadly
PistolCam is a camera unit that clips onto a variety of handguns. Once in place, and the deadly weapon's removed from the holster, the gadget can be used to 'shoot' still images and videos.
During a shoot-out, 3.2-megapixel JPEG images can be recorded onto the gadget's 512MB internal memory. Trigger-happy users need only squeeze the shutter key to capture a miscreant in the act before he pays the price... BAM! BAM! BAM! Click! Click! Click!
If you need video footage of the target, then the PistolCam's manufacturer claims the unit can record between 40 and 60 minutes of MPEG 4 footage at 30 frames per second.
The shooter's USB 1.1 connection enables both video and still images to be transferred to other devices.
You'll never miss an opportunity for a good shot with this device. Once the gun's been removed from its holster, a "Tactical Illuminator" - a red laser aiming aid, essentially - helps you draw a bead on the target... er... subject.
A handgun is only as good as the number of rounds left in the chamber. However, the PistolCam will continue shooting pictures for five hours.
PistolCam costs around $700 (£350/€400) and is available direct from the manufacturer. And no, the gun isn't included...