DroboShare network storage 'robot'
Can network storage really be this easy to use?
Copying data across isn't particularly quick, either. Copying over 1GB of data - comprising 100 10MB files - took, on average, just over three minutes - a data-transfer rate of 44.21Mb/s. That's over a wired links with a Netgear router, but we didn't see any improvement over a manually configured Mac-to-DroboShare link. In any case, so much depends on how busy your network is, whether you're connecting wirelessly or over a wired link, or whether your other kit has Gigabit Ethernet as DroboShare does.
What drives you put in will affect performance too. Oh, and it doesn't like multiple copies made in parallel. Doing so really slowed out test set-up down.
It's easy to take the Drobo off the DroboShare and re-connect it to a USB port on a computer, and you'll see a marked increase in data transfer speed if you do. Switching 'modes' this way doesn't require the drives to be reformatted - all your data is retained.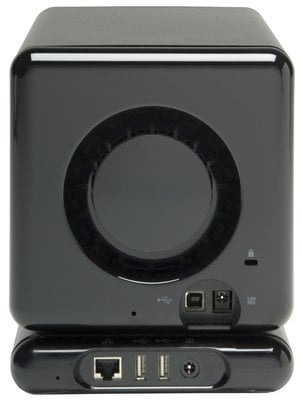 Ports for Gigabit Ethernet and hooking up two Drobos
Then there's the price. One drive-less Drobo costs $499/£350, and you can add a further $199/£160 on top of that for DroboShare and then more for the drives. Say, $400/£205 for the three 500GB units and a 80GB drive you need to get 1TB of user-accessible data storage - after the overheads - from the Drobo. That's $1098/£715 in full.
Apple's newly released Time Capsule offers 1TB of (unformatted) shared storage for $499/£329, and that includes a full, dual-band 802.11n access point and three-port Ethernet switch. You don't get the data protection facility, of course, and that's really what you're paying for with Drobo: safety from hard drive failures. But it won't protect you if it gets stolen or, god forbid, your house burns down. It doesn't provide any easy way to back-up its contents for, say, off-site storage, something you might well want if you consider your data so important it needs the level of protection Drobo affords.
Verdict
There's no question that Drobo and DroboShare make data resilience and storage capacity expansion really easy. Both are smart-looking boxes packed with even smarter technology to keep your files safe from drive failures and provide you with scope to expand their storage capacity for as long as Seagate, Fujitsu and co. make SATA hard drives.
We liked the Drobo and DroboShare, and we think Data Robotics has come up with something special. But the company needs to get the price down if it's to win over the kind of users who'll benefit most from its technology.

DroboShare network storage 'robot'
It's pricey but Drobo and DroboShare will keep your network-connected data as safe as houses.
Price:
$499/£350 Drobo; $199/£160 DroboShare; drives extra RRP