LG KF600 dual-display sliderphone
Two screens are better than one
Review LG has dreamed up a novel twist on the touchscreen concept that adds a dash of Viewty and a splash of Chocolate to create an original look that combines two front-panel displays: a touchscreen and a standard display.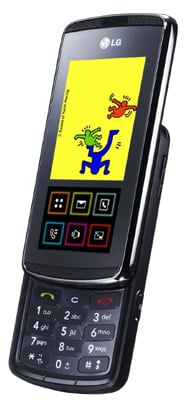 KF600: are two screens better than one?
The lower, touch-sensitive screen - LG calls it the "InteractPad" - displays context-dependent buttons that control functions displayed on the other display. Fire up the MP3 player, for example, and the InteractPad becomes a set of music player controls. Hit the camera button and it switches function and orientation to offer camera control keys. As you zip through the phone's features, the touchpad adapts to suit what you're doing and the options available.
LG has chosen to debut its InteractPad control system on a non-3G phone, providing tri-band GRSM/GPRS/Edge connectivity rather than higher speed data options. There's no Wi-Fi either, so it's evident this device isn't going head-to-head with high-end, multimedia-rich smartphones.
With no visible controls on the front panel, the KF600 is a slick-looking handset. Chrome trims enliven the otherwise black and reflective body, giving the phone a smooth, refined appearance.
The numberpad uses a solidly built, yet smoothly sprung slider mechanism that adds to the quality feel. The keys, though flush against the black plastic surface, are large and sufficiently separated to make text-tapping and number-input a breeze. The whole phone measures a medium-sized 101.2 x 50.7 x 14.1mm, and weighs in at a respectable 107g.
Sponsored: Practical tips for Office 365 tenant-to-tenant migration