MS said to have delayed Euro Zune debut to 2009
No comment on CEO's 'speculation'
Microsoft is keeping mum over the European release date of its Zune portable media player, despite reports that the software giant has pushed back the release to 2009.
The US is already on its second-generation Zune, which was released over there in November last year. However, French newspaper Les Echos this week reported that the player will not now arrive over here until the third-generation players have been released. It claims Europeans won't get their own Zune for another ten months at least.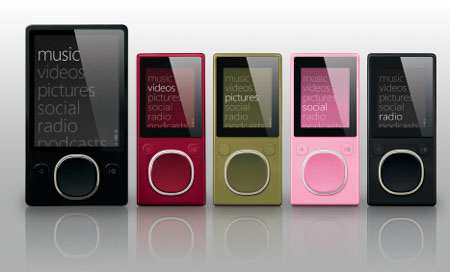 Microsoft's second-generation Zune: as seen in the US
Last year, Microsoft CEO Steve Ballmer admitted that the Zune, originally released in the US in 2006, won't go on sale Europe until 2008.
However, when Register Hardware contacted the Seattle-based behemoth to ask about any potential delay to the PMP's schedule 2008 European release date, a cheery spokeswoman would only say: "Microsoft does not comment on rumour or speculation".
So Ballmer was merely speculating about a European launch, rumour-mongering so-and-so...
US-based Zune fans can currently choose between 4GB, 8GB, 30GB and 80GB incarnations of the PMP. The two smallest capacity models look similar to an iPod Nano, whilst the 30GB and 80GB models draw their styling from classic 'fatter' iPod designs.