Wal-Mart stores drop cheap-as-chips Linux PC
A glimpse of restocking? Only online...
Wal-Mart has stopped selling cheap PCs pre-loaded with Linux at its stores because consumer just weren't interested enough, the retail colossus said yesterday.
"This really wasn't what our customers were looking for," a company spokeswoman told the Associated Press newsagency.
Wal-Mart's experiment started in October 2007. The retailer offered Everex's gPC, a unit running Linux derivative gOS. The latest version of gOS powers Everex's Eee PC rival, the CloudBook.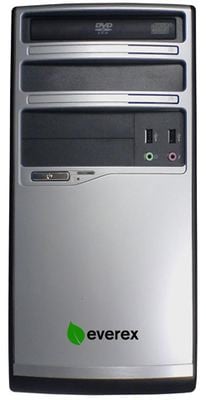 Everex's gPC: no longer available at Wal-Mart stores
The $199 (£99/€130) gPC was sent out to 600 stores. Wal-Mart didn't say how many it shipped in total, but they all sold. Even so, it's decided not to order any more.
Well, not for bricks'n'mortar locations, anyway - it will offer the budget desktop on its website, from which it's also selling the CloudBook.
The gPC - now out as the gPC2 - has a 1.5GHz VIA C7-D processor, 512MB of DDR 2 memory, an 80GB hard drive and a DVD-ROM/CD-RW optical unit.
Wal-Mart has been here before. Back in 2002, for instance, it launched a $199 Linux box made by US company Microtel. The machine was offered solely online, but later dropped from the retailer's catalogue.
The move highlights one of the key challenges for Linux: can it become relevant to ordinary users? The success of Asus' Linux-based Eee PC suggests it can, but there's no evidence yet that the Eee is being acquired by audiences beyond geeks. The Eee's find-it-if-you-can supply line doesn't help any.
Sponsored: Detecting cyber attacks as a small to medium business