HP Compaq 2710p tablet PC
Could be a contender
Perhaps importantly for an OS that still suffers from instability, tablet use is improved by the inclusion of a dedicated Ctrl-Alt-Del button. This allows you to start Windows' Task Manager without having to swivel the display, and close any programs that fail to respond.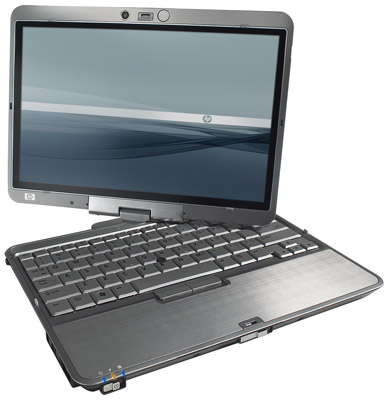 The 12in display doesn't show up reflections or grubby fingerprints
The pen is housed in the side of the machine, and can be knocked out a little too easily for our liking. It can be tethered to the laptop, which makes the machine look slightly toy-like but reduces the likelihood of it being lost. The pen itself has a pleasing heavyweight feel, and has a right-click button on the side. There's a clip on the top, allowing you to attach the stylus to one of your pockets, but there's a good chance you'll resemble a school teacher if you do.
One of the most impressive things about this machine is the fact that its tablet capabilities haven't compromised it when it comes to general use as a laptop. The keyboard is a good size, and the responsive and firmly attached keys make it a pleasure to type on. However, it's a shame navigation is restricted to a pointing stick rather than a touchpad.
Build quality is excellent, with a mixture of brushed aluminium-magnesium alloy and tough plastics used in the construction. The bottom of the HP features a rubber-like coating, making it easy to hold without worrying it will slip from your hands. Although you can lock the display for tablet use, there's nothing apart from the hinge to hold it properly in place when open, so it can swivel accidentally.
Apart from the use of lightweight materials, HP has attempted to keep the weight down by leaving out an optical drive. This won't please everybody, but it does make it a lot easier to balance the device on one arm while you write with the other. That said, at 1.8kg it still had a habit of making our arm go dead when you hold it for long periods of time.

HP has kept the weight down by leaving out an optical drive
One of the things that sets this machine apart from its rivals is the attention to detail. Apart from the impressive quality, the 2710p is crammed with neat touches, such as the keyboard light that pops out from above the screen. There's also a pull-out telescopic antenna for an optional 3G HSDPA module.