Bluetooth set to tech up pillow talk
Rest you head for a natter
CeBIT Imagine the scene: you've just come home from a night out and have flopped down on the bed to enjoy 40 winks, but then your friend rings. You want to chat, but can't be bothered to hold the handset to your ear or hook on a Bluetooth headset. What do you do?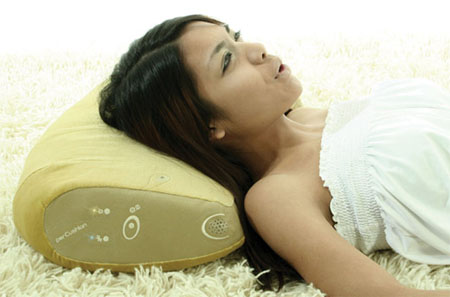 purCushion integrates a microphone that connects to mobiles over Bluetooth
An innovative device dubbed purCushion has been paraded at this year's CeBIT show in Hannover, Germany that integrates a microphone and Bluetooth connectivity, meaning you only have to rest your head on the pillow before you can chat.
The funny shaped pillow is 660mm long and its cotton velvet surface has several buttons for pairing your phone, answering calls and the like. The built-in battery provides up to eight hours of continuous chatter and it'll snooze in standby for up to 300 hours.
If you're itching for a bit of pillow talk then the purCushion is set to be available online for €350 (£265/$500). Just don't fall asleep in the middle of a call.