Nokia N810 internet tablet
Fills a gap you didn't even know you had
Text can be entered via the keyboard, or with a finger tap on the text area of the screen you can open up the truly excellent and well thought out full-screen virtual keyboard. A stylus tap opens up a smaller keyboard that also allows for handwriting input.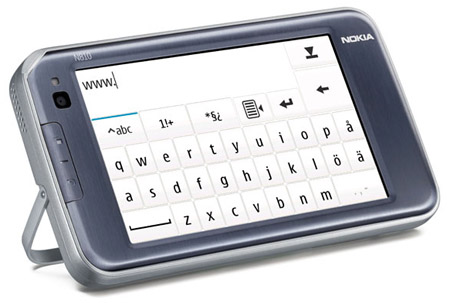 A tap brings up a full-screen virtual keyboard
The N810's media player has its strengths and weaknesses. Format support for video extends to 3GP, AVI, WMV, MP4, H.263/4, MPEG 1 and 4, and RealVideo, and for audio MP3, WMA, AAC, AMR, AWB, M4A, MP2, RealAudio and WAV. Most image file formats are supported too.
Audio quality is generally good and on a par with any iPod even though the player lacks anything in the way of alterable EQ settings or boosters. For some reason, our 810 refused to play the WMV files we loaded on to it but a quick trip to maemo.org, the spiritual home of OS2008, to download the Canola2 and MPlayer applications - which between them play just about anything under the sun - soon solved that.
Playback of an Xvid video file with a resolution of 672 x 288 using MPlayer showed up some weakness though with significant lag and stutter forcing us to reformat to 400 x 240 using Nokia's open source Vista/XP2 video re-formatting application. So perhaps we shouldn't push the idea of the N810 as a PMP too hard.
Storage-wise you get 2GB on-board but the Mini SD slot supports SDHC cards up to 8GB which is enough for a reasonable selection of music and video.
Moving files to the N810 using Windows Explorer is a simple if not exactly rapid operation, with both the internal memory and removable flash card showing up as two separate locations. Faster by far to stuff your Mini SD card into your laptop and copy across media that way.