My First DSLR, from Olympus
The DSLR for beginners
Olympus has launched its latest pitch to photographers keen to move up from compact cameras to the world of digital SLR snapping.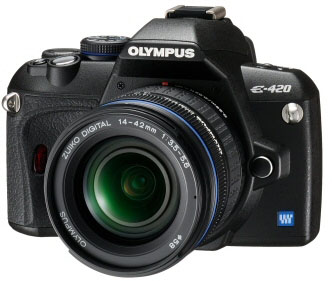 Olympus' E-420: beginners in mind
The DSLR camera is officially targeted at "seasoned photographers and beginners to the DSLR domain", which means the E-420 comes equipped with a ten-megapixel CMOS sensor and 28 shooting modes. Its sequential shooting mode snaps at up to 3.5 frames per second.
A nice bonus is that the E-420 has two memory card slots, one for xD-Picture Cards and the other for Compact Flash, which will boost your storage capacity and give you greater freedom of choice.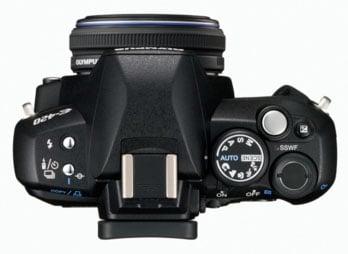 Two storage card slots are built-in
There's a 2.7in LCD display built into the E-420's rear, which has a 176° viewing angle. The screen displays your potential masterpieces in real time and allows you to actively monitor the effect of shadows and the camera's face-detection technology on the snap, before the shutter key's pressed. On-screen indicators also highlight the level of contrast, brightness and colour, all of which can be manually adjusted.
An Ultrasonic Wave Filter System, which also features on Olympus' old-school E-500, is built into the E-420 to stop dust particles clogging up its image sensor.
Olympus' E-420 DSLR is available with several body kits, ranging from a 14 to 42mm lens for £380 (€450/$760) to a 25mm lens for £450 (€520/$900). As a body-only camera the E-420 will cost £340 (€410/$820) when it's released in April.