Sony rolls out new digicam, quite literally
No batteries required
Sony usually plugs digicams with titanium shells, exorbitantly high numbers of megapixels and extended battery lives, but that's not the case with its latest handset. The Japanese electronics giant has designed a prototype camera that doesn't need batteries and doesn't even have a display.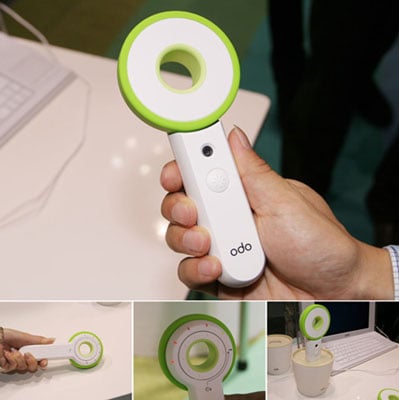 Sony's Odo: green snapper
The camera comes from Sony's oddly named Odo department, which is tasked with creating wacky product designs. It looks more like a pizza cutter than a cutting-edge snapper: a rubber ringed circle, which sits on the end of a Wii Remote-like handle, just needs to be rolled along a flat surface before sufficient power's generated to take pictures. Sony claims 15 seconds' rolling produces enough power to snap one shot.
This process seems simple in practice, because there's no ISO sensitivity to set, no image mode to choose and no confusing array of buttons. Users simply look through a viewfinder in the centre of the device, line up the shot and then press a button on the stick to grab the image. A lens is hidden within the handle.
Although the camera doesn't look much like a flower, Sony's nonetheless teamed it up with a flowerpot docking station, allowing images to be transferred from the digicam to your PC over a USB connection.
It's not yet known whether Sony's got any plans to mass-produce the digicam yet, however it's rumoured that Sony may have developed the camera for use in extreme locations or areas without a constant power supply.