Asus Eee PC gives Sony the willies
If Elfin laptop pulls in punters, it'll pull down prices
It's official: Sony fears the Asus Eee PC. It worries the elfin notebook's low price, low spec approach could cut the bottom out of the laptop business.
"If [Asus' Eee PC] starts to do well, we are all in trouble," Mike Abary, a senior VP with Sony US' IT products operation, told Cnet.
"That's just a race to the bottom... if mainstream buyers buy it then whoa..."
Abary's fear is clear: let punters know they can do what that want to do computationally on a small, very cheap machine, they won't want to pay out for expensive upgrades sporting the latest processor, graphics and screen technology.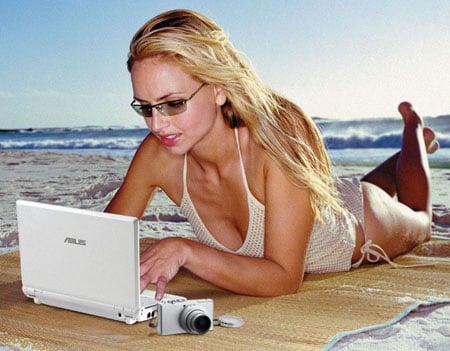 Asus Eee PC and friend: putting the willies up Sony
The PC industry as a whole - let alone Sony - has long depended on punters' desire for more performance from their computers as a driver for regular sales. Ever more bloated apps and operating systems have helped, as they've exposed the limitations of older systems.
Market watchers have long wondered when the point will come when punters decide their current machine is powerful enough for the tasks they want to perform, and the regular upgrade cycle comes to an end. As sales of computers to consumers have grown and grown, this point has become more important.
Still, why blame Asus? It's largely responding to demand, and consumer laptop prices have been tumbling anyway. In the US, Sony offers notebooks priced under $800 - over here you can now get half-decent ones for the sterling equivalent, £400.
The Eee comes in at around £220, so there's still some space for low-end laptops to fall into before they start matching Asus' pricing. If the Eee encourages better prices for consumers, then that's no bad thing. Companies like Sony will just have to work harder to win their favour.
Related Reviews
• Asus Eee PC
• Toshiba Portégé R500 slimline laptop
• OLPC XO laptop
• Maxdata Belinea s.book 1 sub-notebook


Sponsored: Detecting cyber attacks as a small to medium business