Japanese joggers to get exercise earphones with attitude
'Get off your fat arse, you lazy good-for-nothing...'
Not everyone can afford a personal trainer, so Japanese company Sega Toys has come up with the next best thing: a pair of headphones that nag you to exercise more.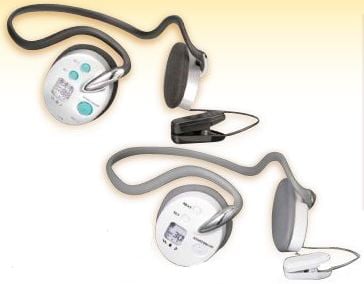 Sega Toys' Body Trainer headphones monitor your exercise
The Body Trainer cans look like a pair of standard sporty headphones, but include a small clip that attaches to your earlobe through which they monitor your heartbeat.
Three exercise programs are built into the cans, including a 25-minute jogging session, but if the earlobe attachment decides you're not keeping up the pace, then you'll get a gentle reminder to "please exercise a little bit harder".
A voice also tells you to calm down if you're overstretching yourself.
Unfortunately, there's no mention of different voices, so we don't know if you'll be able to choose to have an army drill sergeant scream at you Full Metal Jacket style, a nagging partner demand you take the binbags out, or a personal trainer suggest you're at risk of a nasty leg cramp.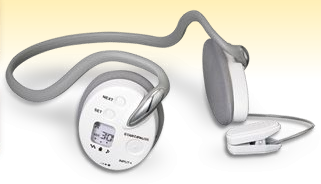 Nag, nag, nag
The headphones do allow your own music to be played though them, so exercise should be a little easier until the reminder kicks in. Buttons on each ear allow you to control all the usual features, such as volume and track selection.
A small display is built into the cans as well to display the various workout options, but it's unclear if it'll also show your vital signs to passers-by that find you on the pavement and gasping for air.
Sega Toys, not to be confused with the video game company, will launch its Body Trainer headphones in Japan this April for ¥5775 (£25/€35/$50). A European release date hasn't been given. A video of the headphones at work can be downloaded here.