EMC does VTL on mainframe, bumps RecoverPoint to 3.0
zSeries backup, CLR replication, thunder lizards...
EMC will spin into IBM's turf next month by punting a virtual tape library (VTL) system for mainframe backup.
The storage firm is also releasing Recoverpoint 3.0 with improved continuous data replication, more Clariion compatibility, and shinier graphics.
Mainframe excursion
The EMC Disk Library for Mainframe (DLm) is a tapeless backup system made for IBM zSeries boxes.
Tape tends not to be a sexy subject these days — and while it still has its uses — there's a certain appeal to avoiding special robots for spooling data cartridges. Terminator 2 prophesies, anyone?
According to EMC veep of infrastructure software Doc D'Errico, the company has enjoyed enough success with its VTL offerings tied to regular systems to go ahead and muscle into the mainframe biz.
The other fellas in the VTL game have gone about things in the opposite fashion with IBM and Sun adding mainframe support awhile back.
DLm uses 1TB SATA II drives with RAID 6 protection. Customers can choose between two boxes using the technology, picking between two or four virtual tape emulators. Each emulator can house 256 virtual tape drives, for a maximum of 1024 virtual drives.
The systems can scale to hold 190TB of physical storage and about 500TB of compressed data, according to EMC. Speed clocks in at 600MB/s of throughput. DLm emulates standard tape types - 3480, 3490, 3590.
The DLm technology is available March from EMC and its channel partners. EMC says the price of an entry level configuration starts at $850,000.
RecoverPoint update
RecoverPoint 3.0 has added some more options to its concurrent local and remote (CLR) data replication bundle, and has improved ties to EMC's Clariion systems. It also looks prettier with GUI enhancements.
In version 2 and prior, a customer could have either a local (CDR) or a remote (CRR) copy of a single data set — but not both for the same data at the same time. Version 3.0 changes that. Behold: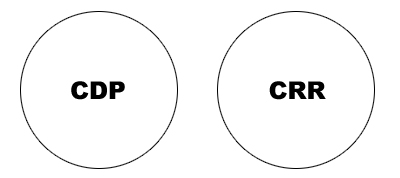 I'm below version 3.0 and can't do both. Abloo abloo abloo!
Suddenly!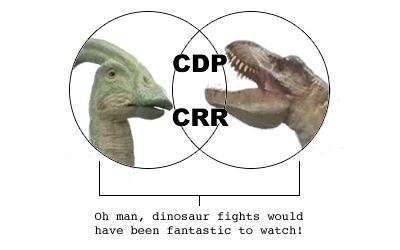 3.0 does both for the same data set
Charts always help to make things clear. Incidentally, the very same data also proves that witnessing the physical conflicts between ancient beasts belonging to the superorder dinosauria would be carnally entertaining. This is does not necessarily express the views of EMC or Situation Publishing — and also not extremely relevant.
According to Doc D'Errico, the change was first requested by large financial institutions in the UK. He said the companies like the idea of having the disaster recovery copy, but also want it in the local data center in lieu of snap copies.
D'Errico also said that killing the need for separate solutions can reduce the storage footprint because it allows one set of journals to handle both flavors of continuous copy for a data set.
Clariion CX3 storage arrays are getting improved integration across the entire line of RecoverPoint software. That includes the newish entry-level RecoverPoint/SE for Clariion arrays.
With 3.0, RecoverPoint deployments will no longer require loading host drivers. There's also a CX3 array-based splitting function that lets CDP and CRR copies for iSCSI and Fibre Channel attached data volumes.
GUI enhancements include tree view management of RecoverPoint and simplified failover models. Concurrent local/remote copies are now graphically represented with handy-dandy icons.
EMC RecoverPoint is available in March and starts at price of $60,500, based on capacity. RecoverPoint/SE 3.0 starts at $20,000 and is priced based on your Clariion array model. ®
Sponsored: Minds Mastering Machines - Call for papers now open