Philips AAA battery handset
Always have enough juice to talk
Philips has created a handset that stops dead your excuse of "I couldn't call because my phone's battery died," because its latest mobile phone accepts AAA batteries.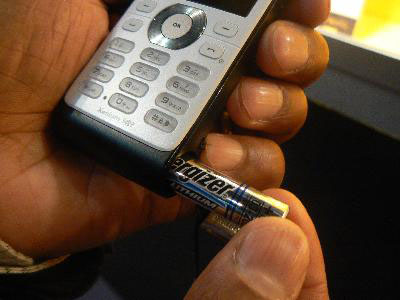 Philips' 9@9j has two power sources. Image from BlogoWogo
Dubbed with the curious name of 9@9j, the candybar handset has a standard lithium-ion battery inside and, should it run out of life, then the AAA battery, which slides into a slot at the bottom of the phone, kicks in to give the handset's lithium-ion battery a little more juice.
The phone, which Philips paraded at Mobile World Congress in Barcelona, was developed in conjunction with Israel-based battery specialist Techtium. It calls the 9@9j's dual battery design Backupower and a company spokesman has told several online sources that the AAA battery will give the lithium-ion battery an additional three hours of talk time.
Philips' 9@9j handset forms part of its Xenium handset trio, which are sold on their battery life credentials. For example, in 2005 the existing Xenium 9@9C clamshell handset made it into the Malaysian Book of Records for its ability to provide over eight hours of continuous talk time and 14 days in standby.
A release date or price for the Philips 9@9j hasn't been given.
Sponsored: Minds Mastering Machines - Call for papers now open