Robocopter gunship abandons sinking warship project
US Navy shifts droid kill-chopper to safer berth
American arms'n'aerospace tech titan Northrop Grumman has announced that its "Fire Scout" unmanned helicopter will now be trialled by the US Navy on a different class of warship than that planned.
This is good news for the robochopper, as the Littoral Combat Ship (LCS) it was originally intended to fly from is in severe trouble and may never see service in significant numbers.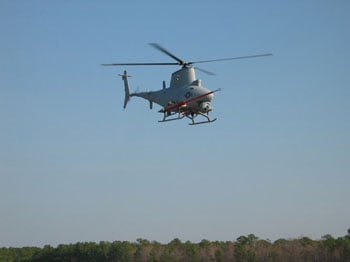 No pilot required - not even for remote control.
"This is great news for the Navy and for the Fire Scout," said Doug Fronius, Northrop's top droidcopter exec.
"It's a win-win situation because the Fire Scout gets to progress through testing and initial operational capability. It will be ready to deploy on operational missions and will be ready when the LCS needs it."
It may be a while until LCS is good to go, however. The foundering inshore-warship project has suffered from runaway costs and its raison d'etre was regarded by many as dubious from the start.
Fire Scout for its part stands out among unmanned whirlybirds for two main qualities. First, it is a true robot aircraft, able to land itself without being remotely controlled by a pilot - even if the pad is on a moving ship out at sea.
Secondly, the Fire Scout is relatively big compared to small spy choppers and the like, based on an existing, small commercial helicopter design with improved rotors and the cockpit for obsolete fleshy flyboys removed. This means it can carry an impressive arsenal of weaponry and plenty of fuel. A Fire Scout can stay up for five hours, tooled up with laser-guided missiles or "Viper Strike" mini-glider pocket smartbombs.
Fire Scout is still smaller than a normal military chopper, however, so that as a rule of thumb two can be carried by a warship in place of a regular whirlybird. This offers the ability to maintain continuous aerial presence to smaller frigate and destroyers, an attractive feature. Frigate-sized warships tend to be heavily dependent on their helicopters, so the limitations of a single airframe and aircrew can be a big problem.
The USN hasn't said just what ship class will take the Fire Scout programme forward, but Northrop says operational evaluation will start this autumn.
Meanwhile, Fire Scout is also planned to form part of the US Army's future networked droid legion (aka Future Combat Systems), in which role it is known as Class IV UAV. ®
Sponsored: Practical tips for Office 365 tenant-to-tenant migration