Intel rolls out Skulltrail high-end gaming mobo
Dem bones, dem bones
Intel has formally launched 'Skulltrail', its two-CPU gaming motherboard that's ready for both AMD's CrossFire and Nvidia's SLI multi-GPU technologies.
Skulltrail - which Register Hardware reviewed last month - can take two quad-core 3.2GHz Core 2 Extreme QX9775 processors - essentially a pair of server-oriented Xeon CPUs with gamer-friendly branding, which is why they cost $1499 a pop.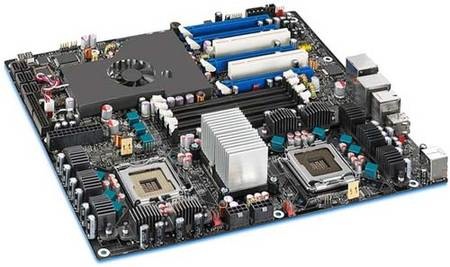 Intel's D5400XS: the mobo formerly known as Skulltrail
Adding to the board's price: the use of FB-DIMM server memory. The board itself - now officially dubbed the D5400XS; its chipset is Intel's own 5400 part - costs $649.
Throw in a pair of AMD or Nvidia graphics cards for co-operative rendering, and it's clear Skulltrail-based systems are going to cost a pretty penny.
That hasn't stopped a handful of system builders, including Voodoo, Falcon Northwest, Armai, Boxx, Scan and Velocity Micro, announcing machines based on the technology
For your money, you also get six USB 2.0 ports on the I/O panel, two eSATA ports, Gigabit Ethernet, one Firewire port and five audio mini jacks and an optical output for the Intel HD audio. There are six 3Gb/s SATA connectors with Intel RAID.
Intel's next gaming chipset, X48, is due next month.
Related Review
Intel Skulltrail high-end gaming system