Sapphire ups Radeon HD 3850 memory to 1GB
Core clock upped too
Graphics card supplier Sapphire has introduced a special version of its AMD ATI Radeon HD 3850 card with double the memory of the regular model.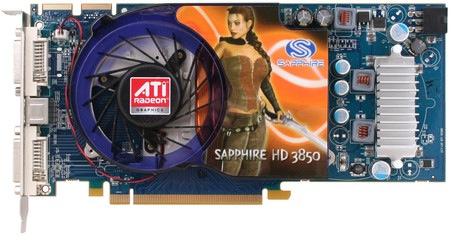 Sapphire's 3850 1GB: double the Ram
The 3850 1GB packs in that amount of GDDR 3 memory clocked at an effective 1.66GHz. But while the memory runs at standard speed, the board's GPU is clocked to 703MHz - five per cent higher than the standard, 668MHz.
The board is fitted with active cooling, but it's still a single-slot design, despite the raised core clock speed. It's also equipped with two dual-link DVI ports and an HDTV port that delivers HDMI output with audio via an adaptor module.
The 3850 1GB is ready for connecting up in two-, three- or four-way CrossFire X set-ups, Sapphire said. However, there's no word yet on availability or pricing.
Related Reviews
• AMD ATI Radeon HD 3870 X2 dual-GPU graphics card
• Asus EN8800GT/HTDP/1G 1GB graphics card
• AMD ATI Radeon HD 3850 graphics chip
• AMD ATI Radeon HD 3870 graphics chip