Panasonic preps Wiimote-proof TV
Wii shall not be damaged
Panasonic has designed a plasma TV which it reckons will withstand the force of a fiercely flung Wii Remote.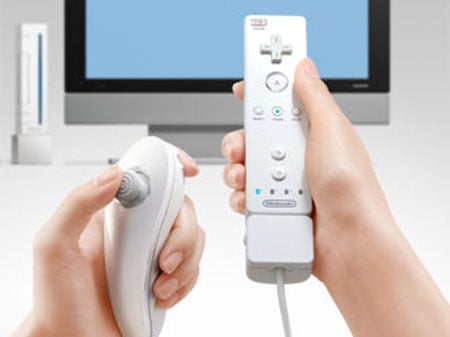 Don't let go...
The TV's display surface can absorb a hit packing up to four Joules of kinetic energy, thanks to a special transparent coating sprayed on the screen. For those without a physics background, a Joule is the energy expended by the force of one Newton moving one metre.
Panasonic's designers clearly haven't been told that Nintendo actually ships the Wii Remote with a strap to stop it flying out of your hand and hitting your telly during a heated game. However, you can't fault Panasonic's marketing department for recognising a unique selling point.
An alternative Wii TV shield
The company isn't the first to come up with a Wii-centric TV protection innovation, though. One Taiwanese manufacturer has already designed a specialist LCD TV Wii shield that likewise protects your telly from flying Wii Remotes.
The Wii shield is a little obtrusive - Panasonic's Wii-proof telly has the benefit that it's indistinguishable from any other flat-panel display.
In 2003, the US-based owner of a 42in Plasma TV suffered a nasty shock when his three-year-old son smashed up his TV's display with a Wii Remote, because he didn't win a game of Wii Sports Tennis.
Panasonic hasn't released any pricing and availability details for its Wii-proof TV yet.
Sponsored: Becoming a Pragmatic Security Leader