Nokia 7900 Prism
Style over substance
Review Big brother to the Prism 7500, the somewhat sinister and Darth Vader-esque Prism 7900 is the next step in Nokia's campaign to convince us that visual style should be the primary driving force when it comes to buying a mobile phone.
But baroque and cyberpunk looks aside, it's the sparkling and still not-yet-commonplace OLED display that is the 7900's sole distinguishing technical feature.
You can find out what exactly OLED is here, but the short and tall of it is that an OLED screen makes for a bright and highly colourful display with far better contrast than a normal LCD while at the same time sucking down less power because it doesn't require a separate backlight. In the real world, all this means that it's hard not be just a little impressed when the 7900's 2in screen lights up.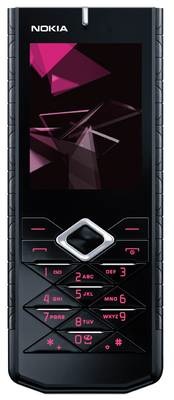 Nokia's 7900: the screen's bright, but only when the weather isn't
The display is without doubt one of the brightest and clearest we've seen on a mobile phone. But sad to say it only really works when you're indoors or in poor light. In direct sunlight, the 7900's screen suffers badly, far more so than a traditional LCD screen, making it very difficult to read.
When active, the display changes depending on the time of day, battery strength and signal strength, a feature Nokia refers to with the rather disturbing phrase "living wallpaper", which sounds like something you'd read about in a Clive Barker novel. You can also select from 49 keyboard backlight colours that radiate from below the keypad and pulse from the two horseshoe LEDs on the top of the handset giving potentially hours of fun setting up your phone to look just so and to match your personal aura down to a tee.

Fashionably thin
At 112 x 45 x 11.3mm and 101g, the 7900 is 3.5mm thinner and 18g heavier than the 7500. It comes with quad-band GSM/GPRS and 3G - though no HSDPA - and there's 1GB of on-board memory. Bizarrely, the 7900 lacks its sibling's memory expansion slot. Nor does it support 3G video calling - odd omissions for a phone with such fashion-tech pretensions.